INPERSONNATION (working title)

By Anthony "The Rory Man" Tran
INT--MORNING--DRESSING ROOM
(An Elvis impersonator is in his dressing room wearing a bathrobe, preparing himself for the F.A.K.E.S. Fabulous Amateurs Keeping Entertainment Simple competition. He walks beside his Elvis posters and looks calmly into the mirror.)
PAT (coolly)
(pointing fingers at himself through the reflection.) Hey how ya doin'. I got my blue Swede shoes on. (Then as himself, we see his face change expression in the mirror) DAMNIT! Two years of impersonations and I can—(his hips begin rocking back and forth, thrusting his pelvis next) I still got that boom Boom BOOM! (with each boom, he shakes the hips)
[He whips his head around and stares at Elvis on his wall. He begins to concentrate on the photo, hoping to grasp the essence of who Elvis is.]
PAT (confidently)
I will win tonight. I will win. (turning back to the mirror, a satisfied grin reflects back)
INT—MORNING-NAPOLEAN'S DRESSING ROOM
(The Napoleon Dynamite impersonator is on his phone, strong-willed and in costume, but talking in his normal voice.)
SHANE (on the cell phone)
Yeah I guarantee that this show is mine. (pause) Who am I up against this year? A stupidass Titney Spears and that out-played Elvis fool. (pause) America for sure is not over with Napoleon Dy-NO-Mite! They'd vote for Pedro over Bush any day if the damn movie would have came out before the 2000 Election. (pause) Naw man! I am good to go like a Crunchwrap (motions hands like Taco bell commercial). I stay fly. Bye.
[He hangs up; his other hand is revealed, petting a weird yellow stuffed animal.]
SHANE (in the Napoleon voice)
Yes, Precious, it's in the bag. (a shot of PRECIOUS and a thing of lip balm beside him on the table) Give me that chap stick, Precious, my lips hurt real bad. (same shot of Precious remaining inanimate) PRECIOUS! Fine, you're just pissy because I've been chatting online with hot babes all day—oh shit that's other dude's line.(closer shot of Precious) Chap stick now! (CU on Precious) Just wait till I put my wig on Precious, just wait. (ECU on Precious) Shut uppppp. (Punches Precious, which flies into the mirror and it cuts.)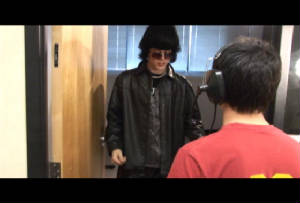 INT-NOON-PAT'S DRESSING ROOM

[Pat is dressed in Elvis costume, zipping up his fly and a knock on the door is heard. He walks over to the dressing room door and opens it to reveal STAGE MANAGER.]
ELVIS/PAT
Hey pretty lady, welcome to the king's room. We can go to the back and start some jailhouse rocking, what do you say? (Hips moving & a thrusting pelvis closing in on the stage manager)

STAGE MANAGER (is a guy holding CLIPBOARD)
Pat. Sir, we'll be ready in about a half hour.
ELVIS
Thank you. Thank you very much.
[The dude leaves. Pat looks at himself in the mirror with a pair of classic shades on and slicks back his hair. He grabs a PLATE with a peanut butter and sliced banana sandwich, taking a monstrous bite. For a second time, the door is being banged on, much louder and more violent. Ignoring the perpetrator, he takes another bite. Even louder now, Pat faces the door. Trying to enjoy his remaining minutes before the contest, he shoots an evil glare at the door.]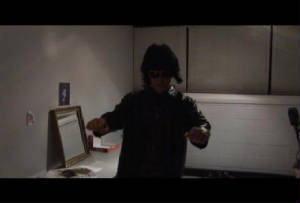 ELVIS/PAT(cocky)
You ain't nothing but a hound dog, bitch.
[The door begins to shake. Rattling the dressing rooms. The lights begin to flicker off and on. The sandwich falls, and he begins roaming toward the door feeling around with his hands in the dark. The lights are off, then on—and then he's dancing, off and on and a different dance move per flicker repeated until he reaches the door. His shades still on, he opens the rumbling door to reveal Shane dressed as Napoleon with a COLORED CLOWN WIG for the afro look. The lights remain on and Elvis looks up in disbelief, but ignores he's own shock.]
NAPOLEAN/SHANE
Hey PaTINA, you fat lard, were you eating peanut butter, King of Crisco. Gawd!
PAT/ELVIS
What are you doing disturbing my peace before the big show tonight? Don't you see that you're bothering me, boy, by banging on my doors?
SHANE/NAPOLEAN
Patrick, Patrick. So fragile, so weak. (emphasis 'K' sound) King of Crap is more like it. (mockingly chuckles) I've won the F.A.K.E.S. competition the last three years, and you always seem to be a mere second place every time. You know why? You're outdated. You're the past, and nobody gives a damn about what isn't moving us forward in today's society. Fabulous Amateurs Keeping Simple Entertainment, we are, FAKES.
PAT/ELVIS
And a mentally challenged nerd is evolution? Hah. It's the past that makes us who we are. A pea brain like you wouldn't understand that. You're the leaders of the fake ones huh, Shane? (He begins walking toward Shane, making him step backward into the hallway) You're…(step)…just a…(step)…piece of…
INT—HALLWAY
[They both stop what they're doing and sniff a little. The smell is stronger, and their noses start sniffing toward the right door and into the air a little.]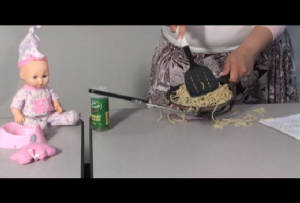 SHANE (disgusted)
You smell that?

BOTH
Britney!
INT-AFTERNOON-BRITNEY'S Dressing Room
[A male Britney impersonator with huge knockers and a blonde wig is cooking with a FRYING PAN on a HOT PLATE with SPAGHETTI mixed with MILK and BUTTER. In a daze, she pokes at the raw noodles with a SPATULA.]
BRITNEY (talking to somebody in the room)
It's a good day. I ain't even that drunk! (hiccups) The babies are hungry. They need a little more. [She whips out her left fake boob and pretends to squirt milk.] All better, right baby? (she smiles at the figure in a high chair and speaks like Yoda) One more time, baby want? (a plastic doll is in the HIGH CHAIR. Stirring the spaghetti, Brit adds PARSLEY and smiles in her high ditzy daze she begins to weakly sing while stirring the crap.) Gimme gimme more. Gimme more!
INT-NOON-HALLWAY
[Shane and Pat look at each other seriously, then bust out in hysterical laughter.]
SHANE (a.d.d.)
No way dude! We already know that she is out of the game.
PAT (smirking)
Is that Anna Nicole or Jessica Simpson?
SHANE
Hold up dude, I got to go rehydrate the plants. ("you know what I mean" look)
[Shane walks away. Pat looks over to Titney's room and shakes his head in disgust. On the door of each contestant is the name of the Impersonator on a gold star. Pat's door is two away from Napoleon's. Pat casually looks around and walks swiftly with stealth into NAPOLEON'S room.]
INT-AFTERNOON—NAPOLEON'S ROOM
[Inside the room are cut-outs of phrases from Napoleon Dynamite like "GOSH!", "IDIOT!", "VOTE FOR PEDRO!", "TINA YOU FAT LARD" and "LET ME BORROW YOUR CHAPSTICK, MY LIP HURTS REAL BAD!", and a picture of Pedro with a heart in red lipstick around it. He scans the room and sees PRECIOUS thrown on its side. Looking mischievously around, he snatches the stuffed animal and runs out the door.]
INT—AFTERNOON—HALLWAY
[Zipping up his fly with his head down for coordination, Napoleon sees Pat walking out with Precious.]
SHANE
HEY! Come back here with…my precious. (said with change to Golem from LOTR)
[Pat takes off running, he isn't willing to let Shane win, especially with his cliché façade presented in everything within the competition. Then he busts outside.]
EXT—AFTERNOON—PARKING LOT
SHANE (cries out)
I'll get you MY PRETTY!!!! (under his breath) and your little dog too, fucking loser.
[Running around the parking lot, Napoleon sneaks around the corner of a car, but Pat is behind another one far away, and the chase is continued in between the two rows of parked cars. The chase is fun and corny, as they reappear at random spots on this one shot.]
[Eventually Shane reaches out for Precious and falls away from it as Pat slips it out of his hand. He falls backward in despair as Precious brushes his fingertips. Pat bolts off under the sunlit in his costume and crashes through into Brit's room.]
INT—AFTERNOON—HALLWAY/BRIT'S DRESSING ROOM
[Britney turns around with lip-gloss in her hand, moves her lips softly, then puts on a friendly smile.]

BRIT
I was expecting you.
PAT
Really, pretty lady? You want to be my Teddy Bear?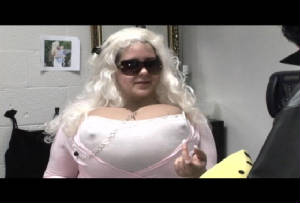 BRIT
I know I come off as a drunken Louisiana girl that gets married in Las Vegas and lets out a few baby Brits here and there, but I know when somebody's upset.
PAT
Are you psychic or something?
BRIT
Heh, No. You kind of just busted through my dressing room door with a yellow…a yellow…
PAT
Precious?
BRIT
Sure, dawg. Listen, come here.
[He steps up to her carefully and leans his ear into it, before grabbing his nose from her horrid cooking.]
BRIT (sexually)
I know what you want. I know what you need. (she arcs around him and it looks sexual) You need…a new song!
PAT (in disbelief)
A new song?
BRIT (getting into it)
YEAH! Like, "Sometimes I cook, sometimes I fry, sometimes I'm high with you babay—"
PAT
Whoa there "Brit" (emphasis quotes with hands") That's your style of music. You got anything for me to sing?

BRIT
Well I did write this song. It was about you last year. It's on my new record, available in November, so no.
PAT
I need help! BRITNEY BABY! PLEASE!!!!
BRIT (agitated)
Ok…
INT—HALLWAY—
[Shane is furious as he storms with rage into the hallway. He smells the air and heads into Britney's dressing room.]
INT—BRIT'S DRESSING ROOM
BRIT
What are you doing in here! This is girls only.
SHANE
What the hell is he then?
ELVIS/PAT (humbly)
I believe…The King.
[The Stage Manager walks in the room with the CLIPBOARD and a HEADSET.]
ELVIS/PAT
Wanna Viva Las Vegas with me, Britney?
STAGE MANAGER
Hey party imposters. It's time. (party music begins playing real loud)
FADE INTO:

INT—STAGE
[The lights are all set up nicely and a crowd is in anticipation as the announcer is in front of a PODIUM. A big banner written F.A.K.E.S. hangs as the backdrop.]
ANNOUNCER GUY
I am proud to present this years best F-A-K-E-S nominees!
SHANE KIPPERS as NAPOLEON DYNAMITE!
[A quick 6 second video plays of Napoleon shows on screen with different angles and edits play: "Gosh!" "Freaking Idiot!" "My lips hurt real bad!" "You should really vote for Pedro". The AUDIENCE goes wild and roars with laughter.]
ANNOUNCER GUY
Pat…(unsure of last name) …eh…as ELVIS PELVIS!!
(the last name is uncertain since the requirement of this character was to be just "Pat" as a joke it is said like there never was a last name, ha-ha funny… Dork.)
[Elvis' video includes cool shots of him singing with black and white picture. Hips moving. Pelvis thrusting, more pelvis thrusting. "You'll never walk alone" and winks at the camera. Britney screams louder than hell like one of the hysterical fans back in the golden days.]
ANNOUNCER
And finally, our lady, Ms. Titney Spears!!!
[Britney's video is 2 seconds long. A flash of her dancing WS and a CU of her looking hot into the camera and then it cuts. Two people clap. In the audience, Britney looks confused. This becomes split into 3 screens showing all nominees.]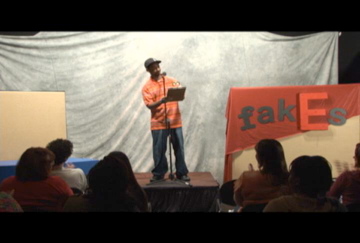 ANNOUNCER
And the winner is…
NARRATOR/STAGE MANAGER
And that's how it ends. Because in the end, everybody is somehow a winner. Elvis rediscovered his love for rock and roll. Napoleon Dynamite stays so freaking quirky. And Britney has another baby. A real one this time. You still want to know the winner? OK. (the scene resumes)
ANNOUNCER
Britney Spurrrsss, yes she is ghetto fab nowadays.

BRITNEY (gets on stage in front of podium)
I did it! I finally did it again! I'm so lucky! Suck on this! (pulls out fake booby)
<CUT: END>
Pre-Production Plans
(This was created before the actual shooting so some of it may be changed)
(May not be 100% Complete): Please try and get what is needed for Production
SCENES INCLUDE:
ELVIS: DRESSING ROOM
NAPOLEON: DRESSING ROOM
BRITNEY: DRESSING ROOM
HALLWAY
PARKING LOT
STAGE
EXTRAS:
PEOPLE IN AUDIENCE during Award Ceremony
PROPS:
Elvis posters
Mirrors
Clipboard
Headset
Precious-The Chi
Cell Phone
Chap stick
Napoleon Dynamite quotes on poster board stars
Colored Clown Wig
Britney posters
Frying Pan
Spatula
Spaghetti
Milk
Hot Plate
Peanut Butter Sandwich w/ banana slices
Lip-gloss
Podium
Banner: F.A.K.E.S.

WARDOROBE/COSTUME ATTIRE:
Elvis: (sunglasses, oil-slicked combed back hair, blue Swede shoes)
Napoleon: (curly wig, glasses, tight jeans, tight shirt: Vote for Pedro)
Britney: (blonde wig, pink shirt, mini-skirt, shoes, knockers, make-up, eyelashes, etc.)
SYPNOSIS:
Pat has been struggling to become the best Elvis impersonator for years. Every time he competes, Shane Smith wins and plans to win again as Napoleon Dynamite this time. Rivalry tension begins to escalate as they try to tear each other down, ignoring the remaining nominee, Ms. Britney Spears. What happens to Shane's keepsake, Precious? What is Britney cooking? Who will win the award for the best F.A.K.E. (Fabulous Amateurs Keeping Entertainment)?
REQUIREMENTS FULFILLED:
Character Pat/Elvis is used on page 1
FRYING PAN and SPEGHATTI cooked up by Britney on page 3
Line: "I'll get you my pretty, and your little dog too." By Shane on page 4
Back and forth "door" scene is used on page 4
ELVIS PRESLEY FACTS:
From Memphis, TN
Hits include: "Hound Dog", "Jailhouse Rock", "Viva Las Vegas", "Teddy Bear", "In the Ghetto", "You'll Never Walk Alone", "Blue Swede Shoes", "Love Me Tender", "I Believe"
-When he swung his hips & danced in the 1950's, TV would only show waist up
-In a lot of movies singing, dancing, and clapping plus praise
-Had gossip and ballad number one hits
-Had long black sideburns, dyed hair black, and combed it back with hair oil
-Had mass screaming "hysterical" fans
-Curled one nostril on the side
-Liked peanut butter and sliced up banana sandwiches
-His daughter, Lisa Marie Presley, sings
-Died in 1977
NOTEz:
-Britney milking scene likely to be CUT to keep PG-13 rating.
-/+Written/Revised in a course of 12 hours (including time for dinner & breaks)
+Inspired in part by Stephanie Hayes and Bobby Long
+All 3 characters deal with references to both sides of their personalities: Who they truly are and who they like to impersonate.
+Entitled INpersonNATION punning on "impersonation" and referencing being a person in this nation trying to find they place
+++++LET'S MAKE A GREAT MOVIE!!!!!!!!
NOW AVAILABLE ON DVD!